M-Coins are the in-game currency used to buy items.
How to Obtain M-Coins
Attendance Rewards:
The "7 DAYS ATTENDANCE REWARDS" resets weekly.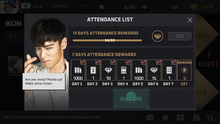 Day 1 gives 1,000 M-Coins
Day 5 gives 1,500 M-Coins
Completing Songs in Training Room:
M-Coins can be obtained by completing a song on any difficulty and speed. The amount of M-Coins received ranges from around 100 to 300 depending on the difficulty of the song and how well the player did.
Last Stop in a District (Special Performance Stage):
Completing at least one song in a district will guarantee M-Coin rewards. Each song completed will give around 500 to 1,750 depending on the district.
Completing a District:
After completing a district, go to the Roadshow's main screen and click on the completed district. There should be a golden present at the top left of the small screen. Receiving this present will give 5,000 M-Coins along with diamonds and Manager Experience.
Completing Quests:
Main Quests are unlocked at certain Manager levels.
**Table not yet complete**

| | | | |
| --- | --- | --- | --- |
| Quest Title | Manager Level | Task | Reward |
| Artist Contract | 5 | Sign 1 Artist | 100 EXP and 1,000 M-Coins |
| T.O.P's Secret Strategy | 15 | Use Advanced Contract Folder | 300 EXP and 2,000 M-Coins |
Participating in Events:
Game events are available for a limited time. Depending on the event, rewards such as M-Coins can be received after completing the event missions.
How to Use M-Coins
M-Coins are needed for Upgrading, Evolving, and Promoting cards.

Upgrading a card costs 500 M-Coins per material card used.

Certain items in the shop can be purchased with M-Coins

Regular Contract (x5) - 12,000 M-Coins
1 Star EXP cards (x10) - 4,000 M-Coins
How to Purchase M-Coins
M-Coins can be purchased through the shop with diamonds.
5,500 M-Coins - 50 Diamonds
11,00 M-Coins - 100 Diamonds
27,500 M-Coins - 250 Diamonds
55,000 M-Coins - 500 Diamonds
110,000 M-Coins - 1,000 Diamonds
275,000 M-Coins - 2,500 Diamonds