Check-in is also called ATTENDANCE LIST, is where to receive rewards each day.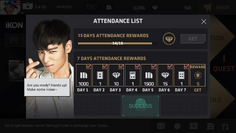 After every week (7 days), players will get extra rewards which are 5 Regular Contracts.
Players will also get extra diamonds if checking-in consecutively for 5 days, 15 days and so on; extra M-Coins if checking-in consecutive for 10 days, 20 days, 30 days, and so on.
The attendance list will reset everyday at 12AM Beijing Time.
Players have to touch the green fingerprint recognition to receive reward, make sure it will show "SUCCESS" as shown in the picture.
If the player missed an attendance day, they have the chance to claim that day for 100 Diamonds.